A week ago was my birthday and I got spoiled with a free trip to Las Vegas. I was staying for free at the all new and luxurious Wynn Resort and Casino.
I blogged about the reasons for the
free stay at the Wynn Resort and Casino
at my personal Blog already two weeks before I actually got there.
It was actually a coincidence and had nothing to do with my birthday. It was great timing nevertheless. I had a great time at the Wynn. It was really luxurious. The Service was great and we had a lot of Fun. I was bringing a friend of mine along since the invitation included everything for free for TWO PEOPLE and I am a single and pretty busy at the moment to find time for a girlfriend.
Fancy Dinner at Daniel Boulud French Brasserie
We started with a great dinner a the Daniel Boulud French Brasserie were we got to meet our host and also other the other people that were invited as well. I completely forgot all the entree's because of the main entrée. It was angus beef filet and ribs. I would have never imagined that I would eat a great angus beef filet AFTER the "other" stuff on the plate, but man, the ribs were not from this world. They were cooked and the meat was so tender and juice that a knife was not needed at all, the meat was falling apart, all by itself.
A Fantastic Show: LE RÊVE
After the dinner did we have plenty of time to socialize before we hopped over to the LE RÊVE Theatre which was specially built for their main Show with the name... right ... LE RÊVE (which means "A Dream" in French). LE RÊVE is a Cirque du Soleil like show which should not surprise anybody, because it was created by Franco Dragone the creator and director of shows like Cirque du Soleil's "O", Mystère and Celine Dion A New Day and other Cirque du Soleil productions. He did his own "thing" with LE RÊVE, that's the reason why it is not officially titled "Cirque du Soleil's LE RÊVE".
The Show was fantastic and more than I expected (and I expected a lot considering the creator's reputation).
The Music was fantastic (I bought the CD :) ) and the acrobatics' breath taking.
I could not get the thought out of my head "no disability insurance is going to cover those guys and girls".
I have a picture from before the show actually started. It's showing the inside of the theatre (no pictures allowed during the show). There is a
short Video Clip (with music)
available here
. Go check it out (you must scroll down a bit to see it).
A Massage at midnight? Golf in the City?
After a good night sleep did we meet with our Host again and they showed us the property. Everything is very nice. The Suites have a bathroom that is bigger than my living room and every single one of them has a separate room, just for massages (with massage service available 24/7). We also got a glimpse at the Golf Course, the only one right at the Las Vegas Strip, which is in the middle of the city. I guess that's were the saying "Only in Vegas" derived from hehe.
Avenue Q
We watched the other Show that night which was actually a musician with the Name Avenue Q. It was not bad, but I am personally not such a big fan of Musicals anyway.
Ferrari ... yeah baby
We also seized the opportunity to check out the only Ferrari/Maserati Dealership in Nevada which is located in the Hotel also. They had one of the few "Enzo" Ferrari's there (estimated value 2.5 Million!!! dollar) which I was not able to photograph. I was able to "steal" a picture of a nice but used Lamborghini with my camera phone. "No Pictures" did I hear a voice from behind me. Well better one picture than none.
We also gambled a bit and flew the next day back to Fresno after a good lunch at the Paris Hotel and Casino (I was showing my friend a bit (else) of Vegas since I have been there already a couple times.
Okay, here are the pictures.
Wynn Hotel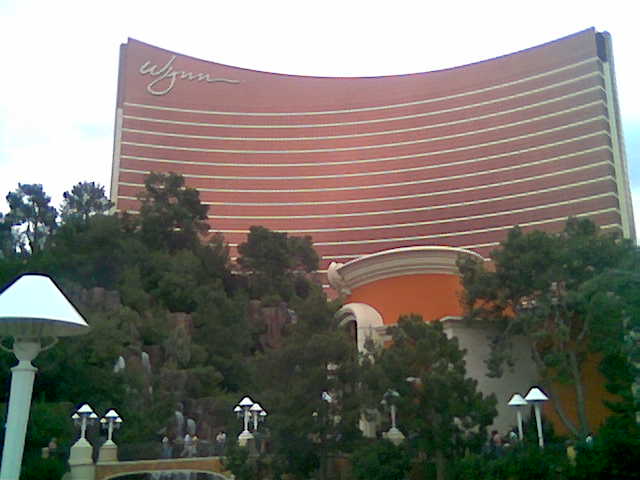 Le Reve Theatre right before Show Start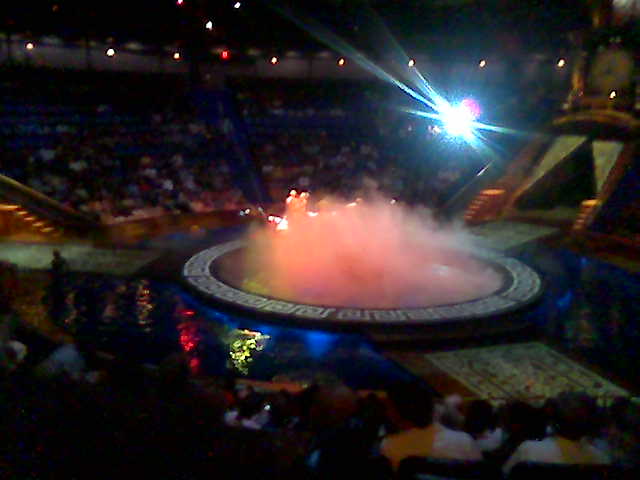 My future car :)